Alrighty - it's been a while since I've had a real post, so grab a cup!
(reminder - Thursday is mine & Spouse's usual day of going to Tim Horton's on the way into work, so Timmy T'ursday)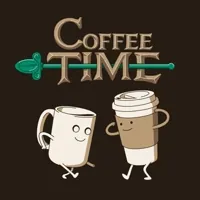 So what have I been up to? My last post was April 7 so I have lot to catch up on!
FYI, I'm so glad the A to Z Challenge is over! I got kind of burned out because I was pretty much writing a post each night, instead of planning ahead.
I went to a Motor City Haunt Club meeting on 4/13 and we made these signs - pretty cool!
We basically just put the decals on the yellow plastic, but it's all mine! It's big, too! Like 2'x2'.
One of my coworkers took a video of a coyote running around the parking lot at work as she pulled in!
Me & my sweetie at Easter. He doesn't do the Snapchat thing so it's fun to play with filters with him.
OMG - LOOK AT THAT FACE!!!
My niece brought her mama-less foster kittens with her at Easter!
There were 5 altogether and just started figuring out how to eat on their own & use the litter box - which meant they were stinky & messy, but SO DAMN CUTE!
Herding cats is a thing! I couldn't get all 5 on Chuck at one time!
I'm sure the neighbors thought I was nuts!
Yes - we still hunt for eggs. And have a good time doing it!
The Michigan Vietnam Veteran's Travelling Wall came to visit my VFW post. This was so cool. This belongs to a nearby
Vietnam Veterans
post and it was the first time I'd seen it. There are 2654 names (including one woman's) on it. These guys have excellent reference material, too. They have huge binders with a page for each name with a picture; where they were from; the high school they attended; branch of service; how, where & when they died; parents & siblings names and a picture their headstone / what cemetery its in.
Michigan's Medal of Valor Recipients
Fallen Comrade Table
Speaking of the VFW, we had a member pass away in 1994 who willed a large chunk of $$ to the post, so they created a memorial scholarship in his name. I volunteered last summer to take it over, since the former chairperson was sick and stepping down from all this posts (he passed away in December). I took packets of applications around to the 6 area high schools and didn't have much else to do until the deadline, other than answer the occasional email and collect applications as they came in. We randomly drew 2 applications at the last meeting and I notified the winners. The one kid is in community college, going to university in the fall. He's happy to just have his $1000 check mailed to him. But the other kid asked to have it presented (this is an option they had) at *both* of his school's awards nights. He goes to regular high school and the smart kid math / science / computer program thru the school district. UGH - I don't like getting in front of people! But he's really excited and grateful, so I'm making up some cool award certificates for both winners and have a rough draft done of a short speech to give at the presentation. Wish me luck!
Oh - I got about about 12000 steps in during that time, too.
We have cameras at the out-of-state terminals at work that are displayed on the wall (the bossman likes to be able to keep an eye on his trucks). One day last week, we were watching a nice thunder storm in Laredo - the red circle is a huge spread of cloud-to-cloud lightning. It was awesome!
Ya know, it was really a lot less stressful not having a kid there! I didn't have to worry about costumes or anything and I sure didn't have to be there all weekend! This one started at like 4:30 Friday afternoon and ran until after 10 all 3 nights. I went for a couple hours.
The tracking course ran until about 1 on Sunday, then I had over an hour drive home, so Mother's Day was pretty low-key. Angel had to work & Randy was sick, I went to Mom's myself and we had pizza.
I got her some pretty impatiens.
And I got myself these funky petunias.
I was going to stay away from petunias, since they're a pain in the ass with needing to be deadheaded & such, but these are so cool! They're like black double blooms.
My crabapple / redbud / whatever it is tree bloomed! It smells SO good! The leaves will start to yellow in July and be almost bare by the end of August, but this makes it worth keeping around! My lilac is blooming too, but since Randy trimmed it way down, there's only a couple small bunches on it right now.
I had Rusty outside yesterday. I was sitting on the bench, enjoying the afternoon, when he noticed some birds & took off. Too bad I had the leash around my wrist! He clotheslined himself and looked surprised about it.
So this weekend should be pretty quiet, too. Randy is in Ohio for
Hamvention
. And Angel is getting ready to go out for the evening. She was almost living over at the boyfriend's house for several months, until she wore out her welcome. So she only goes over there occasionally now. I'm 2 weeks behind on watching RuPaul's DragRace, so I'll go turn that on once I'm done here.
We were supposed to have mounted training Sunday with the Undersheriff, but it was cancelled due to lack of response from the rest of the team. That's OK. I have plenty to do around here anyway, altho it would be nice to get out riding. It's supposed to be warm during the day with severe storms later. I like a good storm!
I think that's it in a nutshell.