Come on in and have a cup of coffee & a donut & chat with me!
I had a mild panic attack this morning, since the Spawn (Miss Angela) decided she wants a 21st birthday bonfire at our house. TOMORROW! So many things went thru my mind - the lawn is a jungle, the house is a disaster, there are headstones & skeletons all over the patio, *we have nothing to burn!* etc, etc, etc.
But I'm OK now.
I mowed the lawn tonight so she can see to pick up after the dog. That's kinda necessary. Hmmm, should clean the bathroom a bit. I moved the headstones so we can get to the patio table & chairs, but left all the skeletons underneath the table. Then a coworker told me she had a ton of firewood that we were welcome to come over and take as much as we want. So we did! As for the messy house? If she doesn't care, neither do I! It sounds like they're all going to be staying outside anyway.
Funny that the last I heard, there were going to be at least 8 people coming over. And all her invite texts said were she was having a bonfire Friday night, either at our house or my sister's. And people responded!! No time. No definite location. Nothing!
It would have been nice to have it at my sister's house - she's got lots of yard, neighbors aren't close by and a BIG firepit. But she wanted to be invited TO the party, too! And hang out with them. And NO alcohol. That idea didn't go over well, so it's at ours. Randy's going to be out of town, but I will make a point of being seen so they know I'm there. And I'll pop out every once in a while under the guise of taking the dog out so I can check on them. I'm allowing beer ***in moderation***, but nothing harder than that. (I will confiscate all keys & we're pitching a tent in the yard for them. If they want to go home, I'll take them) Other than that - I'm staying inside! It's supposed to go down to 45* Friday night with a slight chance of rain. Brr. Staying inside - thanks!
Saturday is my official Halloween Set Up Day! That's why there are animal skeletons & headstones on the patio. I got them out of the shed and of course they were all covered in spider webs & eggsacks & overall grossness so they had to get a good spraydown with the hose. I don't have the people skeletons or the totes out of the garage yet. But my #1 goal on initial set up day is the cemetery fence, sign, headstones & blowmolds. The rest comes out at my leisure. So everything is mostly ready except for locating some zipties and testing / installing light fixtures in the blowmolds. Woohoo!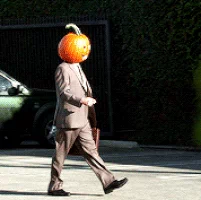 Sunday will be fun - every year we take Angel & my nephew Austin to the orchard to celebrate their birthdays (his is today, he's 18 *gasp!*) It sounds pretty cheesy, but we always have a good time. We're going to my favorite of the local orchards - it offers a lot of kid(of all ages!)-friendly stuff to do. Including 2 huge inflatable pillows that are an absolute riot to jump on! Have you ever laughed so hard that your risk peeing yourself and/or are helpless to move? That's these things. Can't wait!
I had an opportunity to be on the VFW honor guard again - but the day they were looking at happens to be the same day as a fundraising horseback ride that's I've already committed to. Bummer!
The only problem is I don't know yet if I'll be riding for fun....or assisting the sheriff's department again. We have a meeting/training before that, so I'm sure we'll find out then.
Ugh. After yesterday's core class at the gym and mowing the lawn today, I feel like I've been hit by a bus and drug behind it! I am outta here!
It's called Timmy T'ursday because it sounds fun & why not get Tim Horton's on a Thursday?